Comic's humor kosher but not too preachy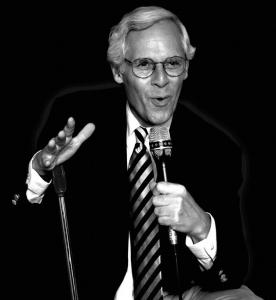 By Paul E. Kandarian
Globe Correspondent / June 1, 2008

CANTON - It may not be kosher, but Bob Alper doesn't mind being the ham in a sandwich between Bob Newhart and Bill Cosby.
more stories like this

Alper, who bills himself as the only stand-up comedian who is also a practicing, ordained rabbi, can be heard in a variety of places, including on XM Satellite Radio's comedy channel and Sirius radio, where his bits are often aired between those of the aforementioned comedy legends.

"That's pretty good company to be in," said Alper, who will bring his wholesome brand of comedy to Temple Beth Abraham next Sunday.

Providence-born Alper, 63, started doing stand-up comedy in 1986 in Philadelphia when he heard about a local Jewish comic contest. He did five minutes dressed in a pulpit robe talking about how how he started wearing a Cossack hat and Groucho Marx nose to the supermarket so people wouldn't stop him in frozen foods and ask him to change bar mitzvah dates.

He came in third behind a lawyer and chiropractor. He's been a professional comic since, doing about 60 shows a year, coast to coast, and also performs the occasional rabbi duty, such as High Holy Days services in Philadelphia.

"I love doing those," said Alper, who lives with his wife, Sherri, in Dorset, Vt. "I don't have to listen to some other rabbi preach."

Alper's wit is dry and insightful, based on observations of life - those that everyone experiences and his own life as a rabbi . There isn't anything remotely blue or offensive in his routine, he said.

"It's really not worth it to make anyone sad. I'm blessed with a tremendous amount of material, so why do it? I won't poke fun at people's physicality or infirmities - but I will poke fun at people who do stupid things."

Alper's act includes the occasional tag-team performance, rare in comic circles, but with Arab and Muslim comics, even more unheard of.

"We'll do our own thing and then talk together, the message being we model our friendship not just from being on stage but as true friends," Alper said of comic, Azhar Usman, a Muslim of Indian heritage. "We're an odd couple; I'm 63, he's 32. The only thing we have in common is both of us are exceptionally good-looking."

Alper, who with his shock-white hair bears a resemblance to comedian Steve Martin, earned his doctorate from Princeton Theological Seminary, where his comic roots were already taking hold. As part of the thesis requirement, students had to do a sermon in front of faculty and staff, and most would take parts of the Bible and expound on it.

Alper started to do the same, but he had a woman's voice boom over the loudspeaker "That's boring!!" to which he shot back, "What am I, Bill Cosby?" referring to that comic's classic "Noah, this is the Lord" routine.

Alper won an award for sermon delivery and oratory. The speech department later used his script as a teaching device. Right around then, Alper noted, "I knew humor was good."

From 1986, he started doing more comedy and less rabbi work, and by 1990, the transition was nearly complete. He does enough rabbi duty now to keep his comic ear tuned to the profession's gold mine of possibilities.

"I think my comedy is such that you don't need a translator. As a kid, every time a rabbi told a joke, first thing is that it was a very long story, and by the time he got to the punch line, he used words only he and the cantor understood."

He uses everyday humor, such as the line about a long-lost friend he encountered at a high school reunion who told him she saw one of his books at a store and said excitedly, "I almost bought it!"

Alper said he'll continue to do humor as long as he can, saying it's good for the soul - his and, hopefully, his audience's. "Comedy is like internal aerobics, and as a comedian, there's no need to retire," Alper said, adding a line from one of his idols, Newhart: "It's worth taking off my shoes at an airport to make people laugh."

Alper's show at Temple Beth Abraham at 1301 Washington St. in Canton will begin at 7:30 p.m. next Sunday. Admission is free.