"We have been blessed with what we like to call the all-American family. We have a boy, a girl and a vasectomy - one of each. I know you're not supposed to favor one over the other, but around the time our kids became teenagers, I became kind of partial to the vasectomy."
"It turns out the Bible has something to say about kids that age. according to one of the commentators the reason Abraham was about to sacrifice Isaac at the age of twelve and not 13 is because at 13 it wouldn't have been a sacrifice."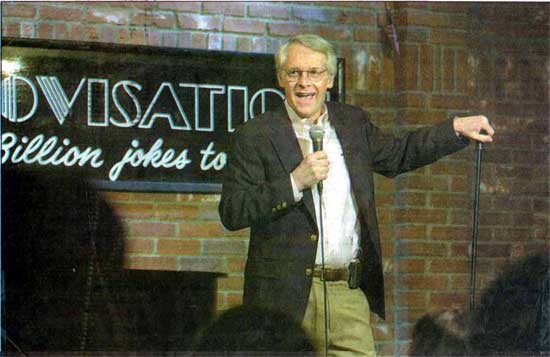 Bob Alper, rabbi turned comic, on stage at the Hollywood Improv. He comes to Tifereth Israel on Sunday night.



By Sandi Dolbee
RELIGION AND ETHICS EDITOR

OLLYWOOD – It's cattle call night at the Improv. One after another, struggling comic are taking turns under the spotlight of the comedy club until


it's time for the big names, which this evening include Michael Richards (Kramer on "Seinfeld") and Brian Posehn (Kevin on "Just Shoot Me").
    The f-word is flying, drinks are flowing and the humor – well, let's just say it's decidedly south of heaven.
    There are jokes about sex ("I like my women like I like my scotch, 12 years old and mixed up with coke"). And dysfunctional families ("I have a younger brother. He's an angel. He's dead."). Then it's Rabbi Bob Alper's turn. He lopes onto the stage with his white hair, blazer, khakis and innocent smile. He looks like Father Knows Best at a kegger.
    This is his 10 minutes of fame – a chance to air his holy humor on a stage that has hosted the likes of Robin Williams, Jay Leno and Chris Rock.
    As the opening applause subsides, he takes the microphone.
    "It's a thrill to be here," he tell the much-younger audience, launching into a story about how he's wanted to be famous ever sine he was a kid.
    "I had dreams of having my own television show, making lots and lots of money, being surrounded by all kinds of beautiful, adoring women. Then I realized that it would never work for me because, you know, I'm Jewish and I could never be a TV evangelist."

    Did you hear the one about the rabbi who became a comedian?
    "I've always been funny," says Alper, who grew up in Rhode Island.
    He was funny even in seminary, which is not an easy place to be funny. When it was his turn to deliver the practice sermon in front of faculty and students, he hired an actress to interrupt him as the unseen voice of God.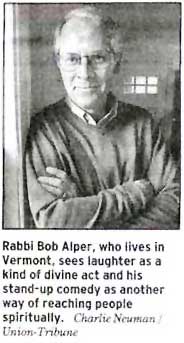 "That won the award for sermon delivery," he says.
    Alper became a rabbi in 1972 and served congregations in Buffalo and Philadelphia, getting his doctor of ministry from Princeton Theological Seminary.
    In 1986, he left the full-time rabbinate to become a counselor, a profession he never actually pursued because he answered an ad for a comedy contest.
    He did well enough in that contest that he decided to pursue his dream of becoming a stand-up comic. He would still keep his hand in the God stuff, doing weddings and funerals and High Holy Days services, but his main vocation would be delivering jokes.
    He tells people his work as a rabbi was a warm-up act for this gig. "All those years of performing in front of a hostile audience," is how he puts it.
    Alper, who turned 57 last month, isn't the first rabbi to go into comedy. Jackie Mason also was a rabbi before he became a comedian.
    Alper thinks he gets a boost by his looks, which bear a close-enough resemblance to Steve Martin that his Web site (bobalper.com) shows him holding a photo of Martin's face next to his own.
    "That's a good thing," he says of the resemblance. "I don't think I could make it in comedy if I looked like Charles Manson."
    He keeps pretty busy. He began January with shows in Florida and New York. Then he performed at a United Way fund-raiser in Vermont, where he lives with his wife (she's a psychotherapist, and they have two grown children).
    On Jan. 24, he did the Hollywood Improv performance, followed by quick trips to Georgia and Arizona. On Sunday, he'll be in San Diego at Tifereth Israel Synagogue.
    He doesn't work on his Sabbath and considers laughter a kind of sacred act.
    "I think laughter is certainly a divine quality," he says.
    Divine laughter, by the way, is laughing for all the right reasons. "Some people laugh at other people's misfortunes – that's wicked," says Alper. "It's got to be healthy and wholesome."
    His jokes are tame enough to be told in the sanctuary. "Not hurtful, not self-hating – and very funny."
    Alper's material – much of it about God and family – is a combination of the stuff he's picked up from other people and written himself.
    He has some taboos. He won't do jokes about circumcisions ("it's a quick, easy laugh, but it's a sacred ceremony"). He won't make fun of another person ("with the exception of my own family"). And he's careful about the language he uses ("funny enough for teenagers; clean enough for grandparents").
    Most of Alper's shows are in front of Jewish audiences. He'd like to broaden that, but also doesn't want to give up being known as the rabbi who is a stand-up comic.
    "That's my hook," he explains. "It distinguishes me from other comedians. Secondly, that's really the nature of my act."
    His performance recently at the Jewish Federation in Augusta, GA., was his second one there.
    "The crowd enjoyed it very much," says federation executive director Mike Pousman, who describes Alper as "a very nice guy with a sunny disposition," whose humor consists of "everyday situations made clever and funny."
    In the end, Alper says he wants to leave his audience laughing and with good feelings. Being on the stage, he says, is a lot like being in the pulpit.
    "When I give a sermon I want to move people spiritually. When I make them laugh, I know I'm moving them spiritually."
    The laughter at the Hollywood Improv begins slowly, at first, and then it picks up.
    "I was walking around the religious school one day, and they were writing creative prayers," he's telling them. "One child wrote, 'Dear God, please let there be world peace.' Another child asked for an end to hunger. And a third child's writing, 'Dear God, please send clothes for the girls in my daddy's magazines.'"
    By the time the red light comes on, Alper and his audience have bonded.
    "I felt it went pretty well for a guy who is not a club comic," Alper says afterward.
    What about the less than religious language and content that surrounded him?
    Alper says he wasn't offended. "I'm not a prude, but as I listen, I always think, 'Would the joke work just as well without the expletives?' And the answer is 'yes.' I guess it's something of the comedy club culture, which the patrons apparently like."
    He points out that Richards did a routine that night on flatulence and Posehn did one on masturbation.
    "I guess we all use the material we know best," he adds.
    That's a joke isn't it?
---