He is funny, he looks like Steve Martin and also happens to be a clergyman. MATTHEW W. NIXSON has a rendezvous in cyberspace with comedian Rabbi Bob Alper

      His style may be totally unorthodox but that doesn't stop Bob Alper being a rabbi as well as a comedian.
      Last year he gate crashed The Bull's Jewish comedy night so successfully he has been invited back for a full show.
      As one of the world's few practicing clergymen cum stand-up comedians, the Barnet audience could be in for a Road to Damascus-style conversion to laughter.
      Being Jewish, however, is by no means a prerequisite for enjoying Rabbi Bob's show.
      "I call it 50 percent Jewish, 50 percent general and 100 percent universal," he explains, via email from his home in Vermont, New England.
      "In other words you don't have to be Jewish to understand the humour. It's also 100 percent clean and unhurtful."
      Just in case, Rabbi Bob – whose life's goal is lunch with Mel Brooks – is planning to use flash cards so even the "Judaically-challenged" will enjoy his routine.
      "Stand-up means if a joke doesn't get a laugh in 12 to 15 seconds it's out of the act."

      Five years ago, while holidaying in Britain, he bit the bullet and entered a comedy competition in a club.
      "Of the eight, I came in second – not bad," he admits. "Besides, I knew that with the 20-something beer and cigarettes audience, I could never win over the fellow doing jokes about Welsh women with large breasts. The rabbi part of me makes me a unique comic. I can do material few other comics can cover: teenage children, living in rural Vermont, travel to Israel, officiating at weddings and funerals."
      His dual role also gives him carte blanche when it comes to dealing with hecklers.
      "I'm the only performer who can pause, look at the offender, and say: 'Excuse me sir. Would you mind leading us in the silent prayer?'"
      Despite the fact that comedy is now his day job with more than 100 shows a year, the 54-year-old still preaches part-time.
      "Once in a while my congregants think I use a bit too much humour in my sermons but I really try to do it just at the beginning – it's a great way to grab people's attention."
      Via e-mail Rabbi Bob is both witty and warm. Appearing in the flesh might turn a few heads. He good-naturedly acknowledges his physical resemblance to another not unheard of American comic.
      "It's good to look like Steve Martin. I don't think I could make it in this business if I looked like Charles Manson.
      Rabbi Bob Alper appears at The Bull. 68 High Street, Barnet, on January 27. Tickets cost £10 from the box office on 020 8449 0048. Visit www.bobalper.com for Rabbi Bob's website.
---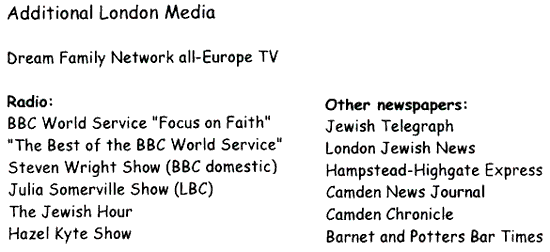 ---