Dr. Robert A. Alper
Rabbi / Author / Stand-Up Comic



A Rabbi AND a Full-time Stand-Up Comic?!
... Bob Alper Will Have Your Audience Rolling in the Aisles
Background:
Bob Alper is the world's only practicing clergyman doing stand-up comedy…intentionally. He performs internationally, from The Hollywood IMPROV to London theatres, has appeared on Comedy Central, Good Morning America, and Showtime, and was featured on T.V.'s EXTRA, immediately following a segment on the size of Jennifer Lopez's buttocks. Bob is the author of a warm, poignant book, Life Doesn't Get Any Better Than This, which The Detroit Free Press awarded four stars and called "a volume of spiritual gems."
Bob (and please call him "Bob" or "Rabbi Alper;" anything other than "Rabbi Bob," which, he says, is "too nauseatingly cute") earned a BA, rabbinic ordination, as well as a doctoral degree, and served congregations for fourteen years. All of this, naturally, prepared him for a successful career as a stand-up comic.
Bob lives in rural Vermont with his wife, Sherri, a psychotherapist.





Click here for the high-resolution photo gallery!


Interview questions for Bob Alper: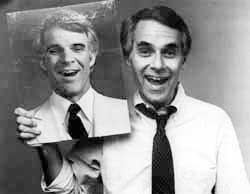 Why does a distinguished rabbi with a doctoral degree become a stand-up comic?
Explain why some chapters in your book begin:

"My father used to take showers with the lady next door."
"It's a good thing that sexual harassment awareness wasn't around in 1954, because I would have been in big trouble."
"The .38 caliber snub-nosed revolver pointed straight up, one or two inches from my right ear…"

When and why did you perform for the archbishop of New Mexico?
What is the source of your stand-up and book material?
How does a rabbi handle hecklers?
What do members of your family think of your career?
Did you ever use humor at a funeral?
Do London audiences "get" your humor?
Describe your new dual show with an Arab-American comedian.