I have heard nothing but praise for the event and your performance since the weekend (which is pretty unbelievable since we have quite a few "professional kvetchers" in our midst!).
Beth El Ner Tamid, Broomall, PA
The turn-out for your show was nearly three times our usual, making it the most successful launch ever. People expected an enjoyable evening, but I think they were simply "blown away" by the quality of your material and the intensity of the non-stop laughter.
Jewish Community Federation, San Francisco
You "killed!" A number of our members told me that they attended your show out of curiosity, and remained for the full hour because, quite simply, you were so very funny, captivating, and unique.
NE Resource Recovery Assoc., Concord, NH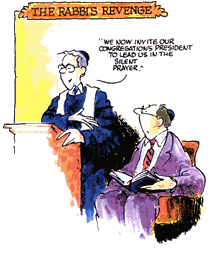 Your program was extraordinary!
Jewish Theological Seminary of America
…a brilliant and genuine comic, from your witty one-liners to your lengthy gags, you certainly know what it is in all of us that makes us all laugh.
Reconstructionist Rabbinical Assoc.
I have been bombarded with phone calls, stopped on the street, and have even been approached in the locker room of the JCC by people who wanted us to know what a wonderful time they had. In addition to laughing until her cheeks hurt, one audience member said, "You could be sitting next to your grandmother and both could enjoy the show without either being offended."
Israel Bonds, Pittsburgh, PA
Frankly, many people who attended were quite curious: could a rabbi/stand-up comic successfully capture a totally Gentile audience? Did you ever!! …our members were absolutely delighted at the way you kept them laughing intensely and continuously.
Loblolly Country Club, Hobe Sound, FL
The show was just one and one-half hours of side-splitting laughter. Real credit to Bob for providing what most comedians don't offer – clean, non-hostile humor.
Congregation Beth Israel, San Diego
Bob Alper's performance last Saturday night was one of those "magic" nights in theatre that every program person prays for and which happens all too rarely. Performer and audience (packed house) melded together to create a "Laugh-In" and a "Love-In." It was wonderful to hear our theatre shake with laughter.
Jewish Community Center, Rochester, NY
One of the best things that happened at Ocean Park last summer was Rabbi Bob Alper…His sermon on Sunday morning, "The Spirituality of Laughter," with some humor included, was very well received. Bob presented a truly wonderful comedy routine on Sunday evening – two hours of clean, humanizing humor that kept the audience laughing non-stop.
Ocean Park Association, Ocean Park, ME
Hats and yarmulkes off to your special talent for reaching out to various age groups and people of diverse religious backgrounds. In other words, you were a big hit with everyone.
Temple Beth-El, Ormond Beach, FL
You were just the right Rx we needed! Thanks for adding such a positive note to our dedication weekend. I hope you were able to see the pleasure on everyone's face.
Temple Rodef Shalom, Falls Church, VA
You turned our event into a huge success. People are still talking about your excellent choice of material (especially for an audience of mostly non-Jews) and your polished delivery.
Wantastiquet Rotary Club, Londonderry, VT
Having never heard Rabbi Bob Alper perform before, we were a little skeptical. After all, besides looking like Steve Martin, how could a practicing rabbi amuse a large crowd? Boy, were we wrong! Bob took our entire audience through a hilarious performance. His show was comical, entertaining, and very very funny. Young and old, men and women, Bob left them wanting to hear more! It was a terrific night! Thank you for an awesome evening!
Congregation B'nai Tikvah, North Brunswick, NJ
Our congregation laughed throughout your performance, and you were totally engaging and delightful. It's such a pleasure to have such a "mench" as a programming partner!
Congregation B'nai Israel, Boca Raton
Thank you for the outstanding performances you gave in Montgomery and Auburn last week. You had them rolling in the aisles in both places…
Jewish Federation of Montgomery, AL
Just wanted to let you know that the reviews are in and your evening at Westwood was an absolute success. It was truly one of the best parties the club has done in many years.
Westwood Country Club, Buffalo, NY
Have I ever had a great week! I have accepted all of the compliments for last Saturday's performance with the proper amount of shyness and reserve, never letting on that all I did was hand you the mike and laugh.
Temple Shalom, Dallas